This September we're making some major changes to Reflow's licensing and pricing model. Our goal is to make it easier to select a license type and more appropriately scale cost with the size of the Niagara system Reflow serves.
This is great news; based on the average Reflow deployment, most of our customers will see either no change or a net decrease in the cost of Reflow in the new model – especially on projects with Web Supervisor hosts.
One license, any host
We're introducing the Reflow Site license which will replace the JACE, JACE Pro, and Supervisor licenses that are currently available.
Site licenses work with all host IDs and on every platform at a single price point – from edge devices to cloud-based Web Supervisors. They include unlimited buildings, floor plans, dashboards, and all of our premium features like maps and weather.
Device-based scaling
Site licenses scale with device count, and come with 50 devices out of the box. You can add as many devices as you need to the initial 50, either right away or at any time in the future as your project grows.
What is a "device"?
A device represents a piece of equipment in your network that will be visualized in Reflow – VAVs, Air Handlers, meters, door locks, etc.
Devices have dedicated equipment graphic pages and can be added to Reflow content automatically including in equipment groups (systems), summary tables, and floor plans.
It's important to note that you only need to license devices that will be displayed in Reflow, and not all devices connected to your Niagara station. Only the devices that are added to Reflow will count towards your license's device limit.
Pricing
Site licenses start at a list price of $399 – the same price of entry as the JACE license today, including the exact same 50 device count. You can add additional devices for a list price of $5/device.
The table below compares the new Site license features with the existing licenses.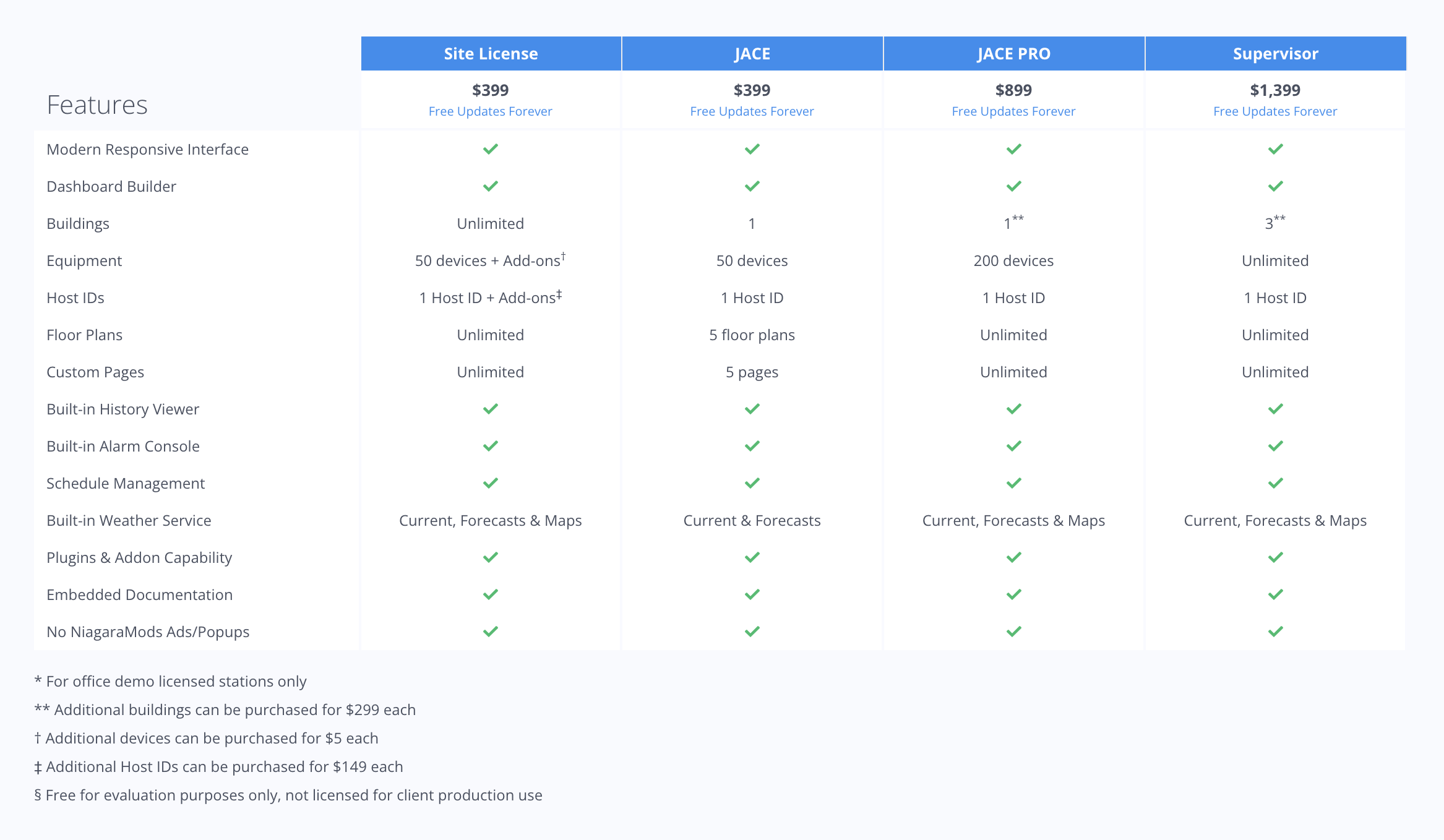 Why we're making the change
As I mentioned above, our goal is to make licensing decisions easier and scale more appropriately in cost based on the size of the system that Reflow serves.
The old license model which scaled based on the type of host hardware and building count has served us well – it's relatively easy to estimate the cost of Reflow by counting the physical buildings in your automation system.
In practice though, the cost of Reflow doesn't always add up to the value it is providing for many jobs:
For Supervisor licenses, the minimum order includes 3 buildings, which makes Reflow prohibitively expensive when compared to the exact same job with a station running on JACE hardware
There's a big difference in scale between a maintenance garage with five devices and thirty story high rise with thousands of devices. In the old license model, the cost for each building is the same
We want pricing to scale smoothly instead of in large steps – for instance having to upgrade from a JACE license ($399) to a JACE Pro license ($899) for jobs with just over 50 devices is cost prohibitive
Standard implementations
On most projects (single buildings and small campuses), we think that the new pricing will make Reflow more accessible and affordable. You'll be able to provide Reflow's best-in-class user experience to even more of your customers – and if your customers are happy that means our customers are happy!
Large implementations
For large implementations (multi-building/multi-campus), Reflow is extremely affordable and much easier to use when compared to other offerings on the market.
While the new model may increase the overall cost of these deployments, we're confident that Reflow will remain the most affordable option on the market and continue to pay for itself in labor savings and provide best-in-class user experience for system integrators and their customers.
Enterprise options
If your job has over 1,000 devices, you may qualify for enterprise pricing. The Enterprise model can provide substantial discounts on list prices based on order size as well as special Enterprise-only features.
We'll be announcing more details about the Enterprise option later this year, but if you're interested or have a job in mind now please reach out!
Discontinued licenses
The current production licenses – JACE, JACE Pro, and Supervisor – will be discontinued when Site licenses launch. This means these licenses will no longer be available for purchase on new projects.
Existing JACE, JACE Pro, and Supervisor licenses will always work and be compatible with future releases of Reflow 1.x. You will always be able to purchase Building Add-ons for these existing licenses.
Upgrading licenses
For licenses purchased directly from NiagaraMods after May 31, 2022, we will upgrade your license to a Site license upon your request. If you purchased a license before this date and wish to upgrade to the new model get in touch with us.
Licenses purchased through VYKON/Tridium are not eligible for this upgrade
Multiple hosts
Later this year, we're introducing a Host ID Add-on* ($149 list) that enables you to add more than one Niagara 4 host identifier to a single Site license.
A common use case for the Host ID Add-on is adding Reflow to a JACE on each building in a system so that graphics can be available locally when the Supervisor connection goes down. This type of solution is often cost prohibitive in the current licensing model
With multiple Host IDs, the license's device count is split up and assigned to each host in the Site license from our license manager.
* Licenses purchased through VYKON/Tridium will not support Host ID Add-ons